London PREMIUM DESIGNED PRODUCTS
Premium Hotel Mattresses and Beds by Richfield London.
Equipping hotels with beds of exceptional quality. We offer a large selection of high quality commercial beds and mattresses at competitive prices.
With many years of experience, modern production and top craftsmen, Richfield manufactures, supplies and installs furniture specifically designed for the commercial catering industry as well as home bedrooms.
Whether you are a small boarding house or a well-established hotel chain, we can provide you with exactly what you need to gain an advantage over your competition.
Richfield premium
Ultimate hospitality industry partner
Our unique Richfield Premium program means that we are able to provide customers with a complete service of manufacturing and equipping our products. Our customers are able to choose the size of the bed and adjust the mattress assembly to find the perfect bed for their needs.
Richfield is a reliable and long-term partner you can rely on when it comes to planning, designing and equipping hotels with quality beds. Our products provide a perfect rest and a night's sleep that your guests will enjoy. Ricfield supplies a large number of beds suitable for caterers such as hotels, boarding houses, hostels, homes etc.

PREMIUM Quality
The Richfield program brings you a five-star experience. Whatever line of Richfield products you choose for your hotel, your guests will enjoy the benefits of Richfield mattresses that will provide them with the most comfortable accommodation worthy of the hotel they have chosen.
tradition
Combining the traditional and innovative skills of London designers and top craftsmen with the finest natural and carefully selected materials, we have created extensive solutions for furnishing hotels that meet all the requirements and standards of two to five stars.

innovations
Thanks to its developed system, the Richfield program quickly adapts to new discoveries, materials and technologies in order to reach high-quality solutions for the modern needs of hotels from a top product to a quick reaction in production and supply.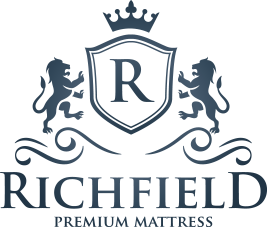 PREMIUM PRODUCTS
Testing & More
You are always welcome to personally introduce yourself to the quality and possibilities of our work. Our mission is to help you understand with professional and impartial advice how important a real bed is for furnishing, rest, sleep and a satisfied client.
RICHFIELD PREMIUM
Introducing Richfield models
Cory Hotel
Top quality hotel bed. Bed and mattress made of natural materials, London premium design.
Ronhill
Modern hotel bed and mattress designed and manufactured to the highest standards of Richfield London hotel solutions.
Chester
Premium Luxury by Richfield, London. Luxury premium edition made of beds and mattresses of high performance natural materials.
SUPPLYING AND EQUIPPING
24/7 Support
We offer more than the perfect bed base and an exceptional premium bed mattress. We offer expertise, experience with tradition and long-term partnership in the production, logistics and supply of catering facilities and the experiences of our customers speak more than anything.